VYSHYVANKA
The Shifting Role of Ukrainian Embroidery in the Ethnic Identity of Ukraine.



"Metushat'sya lastivchata – Lito, lito vze pryishlo, Vyshyvanky na divchatach – Nebo soncem zacvilo." "----- -Summer, summer has arrived, young girls wearing vyshyvannkas - the sun has brightened the blue sky"
(T. Vasylko)

Embroidery functions as a trans-generational cultural lexicon that, through the ground of visual and bodily semantics, strengthens the spiritual core of ethnic awareness in many select cultures.

Ukraine is no exception to this. Decorating fabric with thread acts as a vital practice that integrates visual semantics and object-body relationships to pass down generational knowledge and to strengthen ethnic identity. The decorative threads which were stitched around the collar acted as a symbols of protection against evil spirits. These items would be worn in ceremonial gatherings such as weddings, festivals and any showcases of national patriotism. A simple embroidered shirt (vyshyvanka) then in this sense, becomes a complex carrier of body-land identity and semantic communication. In current collections, some of these embroidered objects, like a colourfully decorated linen over-shirt from the 19th to 20th century (fig. 1) , also become markers of a break in the era of tradition. Made at the cusp of the Soviet revolution in Eastern Europe, they become anticipators of a new cultural limbo for Ukrainian identity. The modern period of Ukrainian cultural ecology, which saw an inevitable pause in traditional practices (due to the Soviet political regime and diaspora), has changed the function of Ukrainian embroidery from a worn, interacted lexicon (such as the example object) to a conceptual, static informant of a past that many long to return to. This in return, threatens the evolution of the Ukrainian embroidery practice.

Now only existing within a museumological realm in the collections of the Textile Museum of Canada, this shirt is caught in a transitory state of craft understanding, where its value has altered to accommodate for a pervasive loss of knowledge. Roughly before the 19-20th centuries, ethnic communion came from initiating the body as maker and wearer in the embroidery practice. Now, cultural education and reverence is increasingly tied to more theoretical study of its semantics and history rather than technical production or innovation. As a result of a significant break in practice, embroidery is threatened to become of a static function, as an artifact swathed in nostalgia that marks the imploding change of visual identity within a singular contemporary culture.

The formal aspects of Ukrainian embroidery (pattern, colour, and composition) are, in their production, closely related to the body as maker and wearer. Often serving as spiritual protective symbols, the formal function of this craft is activated with the body in the acts of making (dependent on time, spiritual status, and age), as well as in wearing (defined by gender, age, and lifecycle). The production of motifs greatly relies on the creative interpretation and innovation of patterns that show progression of a certain understanding of the world. The mentioned linen shirt shows that duality of individual creativity and collective knowledge. The colourful floral designs were most likely interpreted from the surrounding environment. This connects to a previous value of creative making and interpretation, "where each master of folk art reflected collective worldview, while maintaining individual handwriting" (Dobrovolska).


According to studies from the Ukrainian Conference on Current Issues of Humanities, as well as the anthropological work of Dr. Dobrovolska, this individual bodily relationship defined the value of embroidery as a "life -affirming force" (Grodetska, M., Hrodetska, M.) - " a feeling of the heart, reflected and reproduced" (Dobrovolska) in the craft of embroidery. Motif creation and beauty of the embroidery craft is activated by the interpretation of the natural and spiritual world by the maker, which shows that the previous and traditional function of embroidery was not only to portray a cultural language, but to perpetuate the evolution of an ethnic archive. However, an increasing amount of contemporary studies, like that of Dr. Sabol from the Kiev International Institute, analyze motifs with a strict formal intention that underlines a pervasive loss of practical making, stating that "folk art is at the same time a world of cognition, figurative thinking and practical action ... the artistic actions are sometimes again lost in the trenches of millennia" (Sabol). In the case of formal study of embroidery, the focus is increasingly shifting from practicing a language and establishing a bodily connection, to the interpretation of it as a static artifact of a past - not how it was made and can evolve, but what it meant.

In this, the semantics of embroidery is becoming a popular study subject in the quest to re-affirm Ukrainian identity after a wound to collective memory through repressive regimes and migrations. Theoretical analysis is becoming a prominent tool in enlivening the foundation of ethnic consciousness, especially when it comes to carry a value grown from "immeasurable depths of origins"(Dobrovolska). In that sense, embroidery practices are becoming sources of ethnic pride in a fashion that is more symbolic rather than activated or utilitarian. Ukrainian researchers from the Karazin Kharkiv National University are drafting a noticeable distinction in the value between embroidery as a species of folk-applied art or practice, and embroidery serving as a sacred chronicle containing semantic content that offer salvation to identity. They state in their research that the "complex analysis of embroidery is one of the ways to access the cognitive space of the Ukrainian people, in which information has been accumulating for centuries (1). This concept points to the significant contextual complexity of Ukrainian craft practices - a belief that has a daunting effect on innovative creation. This is a curious dynamic that, although rich in theoretical exploration, points to a new division of a previously unified craft phenomenon - context is advised to be taught before the act of making, which inflicts educational barriers for people of the everyday who wish to embroider as an act of spiritual satisfaction or creative interpretation– the body/ maker is no longer a participator in the ethnic value and meaning of the embroidery craft.

This shifting role within craft functionality is clearly seen in the way Canadians of Ukrainian diaspora come to identify the value of collected embroidery clothing. Driven by a desire to reconnect to the past, Canadian collectors like Peter Orshinsky and Leonard Krawchuk struggle between the desire to preserve and the idea of modernization of embroidery, as stated in their memoirs by the journalist Natalie Kononenko. Many collectors seek to recover applied art forms that pre-date Russian rule and go back into a mental landscape of an ancient, pure Ukraine. This can be seen in the most recent collections from the Ukrainian Museum of Canada (fig. 2), where embroidered clothing is portrayed as static relics occupying the bodies of blank mannequins - as incubated objects, rather than worn and activated. This exhibited distance questions the value of connection through wearing and innovation within modern Ukrainian tradition. In this, embroidery production begins to align itself with reproduction rather the evolution of the practice, pointing to a general concern for the Ukrainian diaspora understandingof craft – "is innovation a violation of Ukrainian culture?" (Kononenko). Ukrainian diasporas groups debate on what "constitutes acceptable change and what is a violation of Ukrainian tradition"(4). This tension draws from the desire for craft objects to provide a nostalgic comfort where "tangible objects allow the construction of an alternative world - a space of beauty and harmony with emotional resonance" (6). If so, what does that mean for the future of embroidery as a physical practice rather than a study of the past? A focus on embroidery that is fully preservation-based in many ways contradicts the cross-cultural, innovative and constantly evolving nature of the body as an embroiderer and embroidery wearer.

This changing dynamic points to an inability to activate embroidery practice in the present, a daunting realization that threatens the innovative and physically reflective function of this craft. With the changing purpose of embroidery within the Ukrainian ethnic landscape - from shifts in formal consideration to the changing value of theory versus physical activation, the perpetuation of the practice exists within a tension between innovation and mental preservation: a changing hierarchy of craft value within a singular culture. The embroidered vyshyvanka, such as the mentioned example, becomes an object of great dispute: a reminder of a worn generational lexicon whose utilitarian distance asks the question of what it now means to carry the biography of culture through craft and what justifies a practice to suit a nostalgic mental landscape.


---


Image References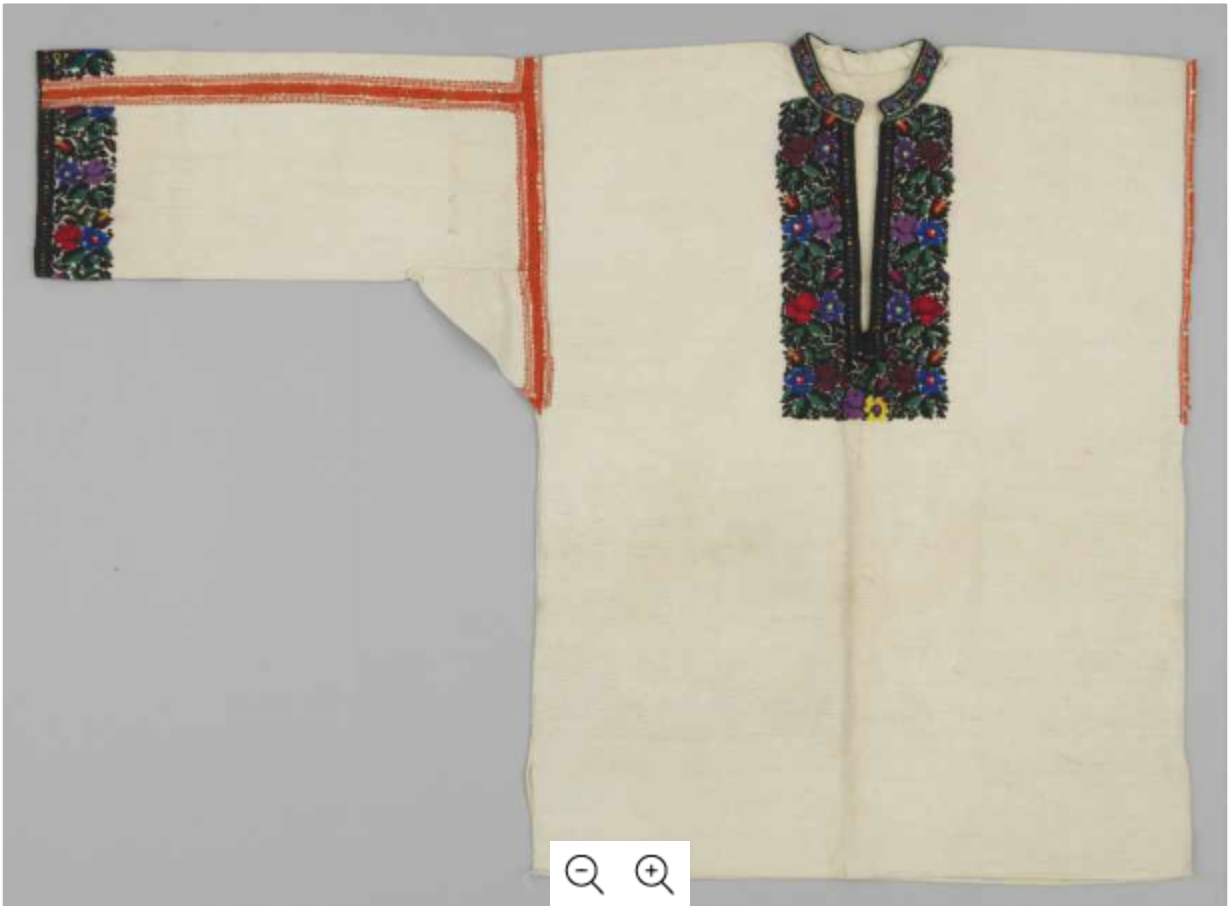 Fig. 1.
Shirt, Eastern Europe (Ukraine), linen, silk, wool , example of late 19th century, early 20th century Ukrainian traditional embroidery. Textile Museum of Canada. https://collections.textilemuseum.ca/collection/8998/

Fig. 2
Ukrainian Museum of Canada, Ontario Branch, 2021. https:// www.umcontario.com
---
Work Cited


Dobrovolska, O. V. "Philosophy of Ukrainian Embroidery." Journal of VN Karazin Kharkiv National University. Series: Theory of Culture and Philosophy of Humanities, no. 57, 2017.

Grodetska, M. and Hrodetska, M. "The Genetic Code of Ukrainian Embroidery." Ukrainian Student Scientific and Technical Conference on Current Issues of Humanities, 2017, pp. 202-203. Translated.

Kononenko, Natalie O. "Collecting Ukrainian Heritage: Peter Orshinsky and Leonard Krawchuk." Canadian Ethnic Studies, vol. 47, no. 4, 2015, pp. 127-144.

Sabol, D. M. "Ethnocultural Semantics of Ukrainian Embroidery." Problems of General and Pedagogical Psychology, vol. 6, 2011, pp. 278-285.

—-"Psychological Phenomenon of Ukrainian Folk Embroidery" Psychological Sciences: problems and achievements: collection of scientific works of Kiev International University and the Institute of Social and Political Psychology of the National Academy of Pedagogical Sciences of Ukraine, vol 4, 2013, pp. 172-185.



Other References


Kara, T. V. History of Ukrainian Embroidery. Kiev Art Publishing House, 2008.
---. National Embroidery of the Poltava Region. Kiev, Academy of Sciences of the Ukrainian

SSR Institute of Art History, Folklore and Ethnography, 1983

Nykorak, Chrystyna. "Depictions of Ukrainian Symbolism and Motifs." The Ukrainian weekly, 2007.

Shandro, Myroslava. Hutsul Embroideries: Second Edition. Romania: Lidana Publishing; Ukraine: Bukrek Publishing House, 2010.

Zajchenko, V. Embroidery from the Chernihiv Region of Ukraine: A Historical Survey. Rodovid, 2010.